---
This is a simple semi covert dual white, ear-bud MP3 style earpiece. Fitted with a Hi-Rose plug and comes with in-line microphone with an integral push-to-talk button. Spare foam covers are available for this quality product.
Microphone Specifications
Dimension: Ø6mm x Ø5mm
Sensitivity: -40 ± 3 dB
Output impedance: 2.2KΩ
Direction: Omni-directional
Audio Response: 50Hz 10KHz
Speaker Specifications
Dimension: 15mm
Impedance: 32Ω ± 15%
Output Sound Pressure Level: 110 ±3dB
Power Rating: Normal 30mW.
Maximum 50mW
Frequency Range: 450Hz-20KHz
average SPL-10db
Cable Specifications
Cable Diameter: Ø1.5mm
Cable Length: 115cm
Colour: White
Material: PVC/kevlar reinforced
---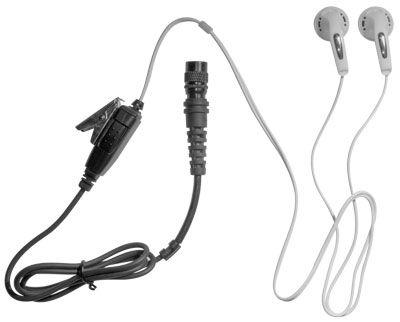 Dual earbud with microphone and PTT
Description

This is a simple semi covert dual white, ear-bud MP3 style earpiece. Fitted with a Hi-Rose plug and comes with in-line microphone with an integral push-to-talk button. Spare foam covers are available for this quality product.

Microphone Specifications

Dimension: Ø6mm x Ø5mm

Sensitivity: -40 ± 3 dB

Output impedance: 2.2KΩ

Direction: Omni-directional

Audio Response: 50Hz 10KHz

Speaker Specifications

Dimension: 15mm

Impedance: 32Ω ± 15%

Output Sound Pressure Level: 110 ±3dB

Power Rating: Normal 30mW.

Maximum 50mW

Frequency Range: 450Hz-20KHz

average SPL-10db

Cable Specifications

Cable Diameter: Ø1.5mm

Cable Length: 115cm

Colour: White

Material: PVC/kevlar reinforced