---
These TLKR-T82's are perfect for those trips where you may get rained on or splashed as it is IPX2 rated. It has a built in LED torch for those dark nights and an easy pairing button.Supplied in twin packs with rechargeable batteries, charger, belt clips, boom mic earpieces and user manual. These are the same as the T82 but come in a carry case with earpieces.
PMR446 radios- license free
Splash proof IPx2
Easy pairing for simple group call set-up
Hidden display gives radio status
LED torch
16 channels plus 121 privacy codes
Dual power - AA standard alkaline batteries or rechargeable NiMH batteries (included)
USB charging
Vibrate alert
Hands-free
Up to 10km range**
Personalisation stickers
** Range is dependant on terrain and conditions. Maximum range over clear country where one radio is higher than the other with no obstructions in between.
T82 Extreme brochure (pdf)
---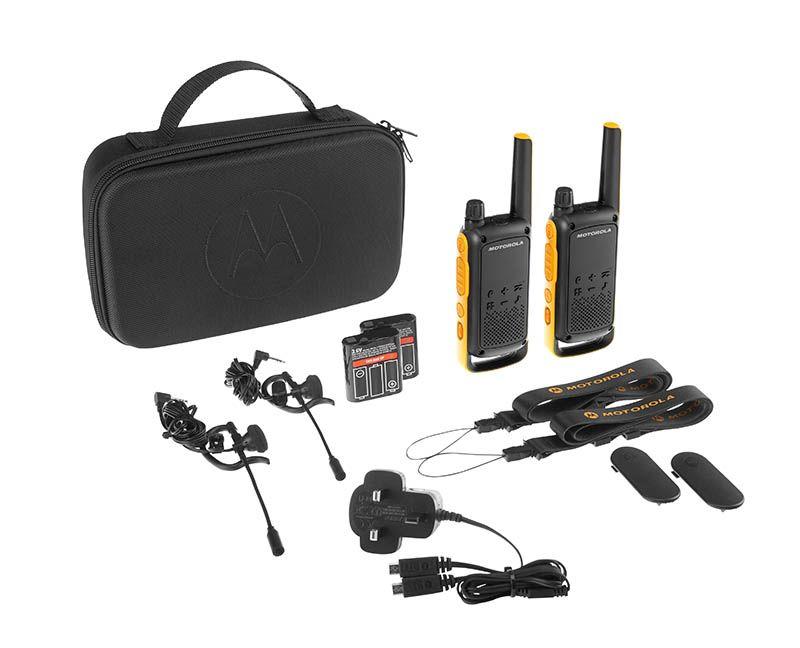 Motorola T82 Extreme Twin Pack
Description

These TLKR-T82's are perfect for those trips where you may get rained on or splashed as it is IPX2 rated. It has a built in LED torch for those dark nights and an easy pairing button.Supplied in twin packs with rechargeable batteries, charger, belt clips, boom mic earpieces and user manual. These are the same as the T82 but come in a carry case with earpieces.

PMR446 radios- license free
Splash proof IPx2
Easy pairing for simple group call set-up
Hidden display gives radio status
LED torch
16 channels plus 121 privacy codes
Dual power - AA standard alkaline batteries or rechargeable NiMH batteries (included)
USB charging
Vibrate alert
Hands-free
Up to 10km range**
Personalisation stickers

** Range is dependant on terrain and conditions. Maximum range over clear country where one radio is higher than the other with no obstructions in between.

T82 Extreme brochure (pdf)