---
A quality MP3 style earpiece with an in-line microphone and push-to talk button which can be secured to clothing with the metal clip. Order on-line by 12.30PM for free same day UK mainland shipping.
Suitable for the following walkie talkies - ICOM IC-F3G, IC-F3GS, IC-3GT, IC-F4G, IC-F4GS, IC-F11, IC-F11S, IC-F14, IC-F14S, IC-F15, IC-F21, IC-F21S, IC-F22, IC-F24, ICF24S,
IC-F31, IC-F33, IC-F34
Microphone Specifications
Dimension: Ø6mm x Ø5mm
Sensitivity: -40 ± 3 dB
Output impedance: 2.2KΩ
Direction: Omnidirectional
Current Consumption: 500A
Working Voltage: 1.5V
Audio Response: 50Hz 10KHz
Speaker Specifications
Dimension: 15mm
Impedance: 32Ω ± 15%
Output Sound Pressure Level: 110 ±3dB
Power Rating: Normal 30mW.
Maximum 50mW
Frequency Range: 450Hz-20KHz
average SPL-10db
Cable Specifications
Cable Diameter: Ø1.5mm
Cable Length: 115cm
Colour: White
Material: PVC/kevlar reinforced
---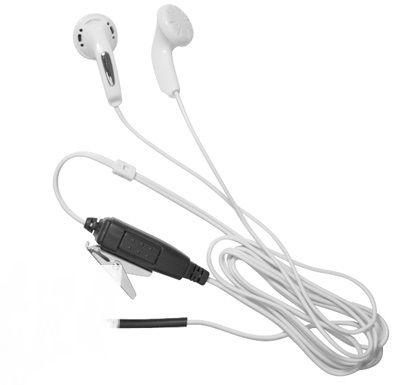 Earphone MP3 style, Icom 2 pin
Description

A quality MP3 style earpiece with an in-line microphone and push-to talk button which can be secured to clothing with the metal clip. Order on-line by 12.30PM for free same day UK mainland shipping.

Suitable for the following walkie talkies - ICOM IC-F3G, IC-F3GS, IC-3GT, IC-F4G, IC-F4GS, IC-F11, IC-F11S, IC-F14, IC-F14S, IC-F15, IC-F21, IC-F21S, IC-F22, IC-F24, ICF24S,
IC-F31, IC-F33, IC-F34

Microphone Specifications

Dimension: Ø6mm x Ø5mm

Sensitivity: -40 ± 3 dB

Output impedance: 2.2KΩ

Direction: Omnidirectional

Current Consumption: 500A

Working Voltage: 1.5V

Audio Response: 50Hz 10KHz

Speaker Specifications

Dimension: 15mm

Impedance: 32Ω ± 15%

Output Sound Pressure Level: 110 ±3dB

Power Rating: Normal 30mW.

Maximum 50mW

Frequency Range: 450Hz-20KHz

average SPL-10db

Cable Specifications

Cable Diameter: Ø1.5mm

Cable Length: 115cm

Colour: White

Material: PVC/kevlar reinforced