---
A quality MP3 style earpiece with an in-line microphone and push-to talk button which can be secured to clothing with the metal clip. Order on-line by 12.30PM for free same day UK mainland shipping.
Suitable for the following walkie talkies - MOTOROLA DP1400 SERIES, GP300, GP68, GP88, GP88S, GP308, GP350, GP2000, CP040, CP88, CP100, CP150,CP200, CT150, CT250, CT450, CLS SERIES, GT1, GTX, P110, P040, P10, PR400, P080, P1225, P200, P1225, PRO3150, SP10, SP21, SP50, XTN446, XTNi, XTNiD, XT420, XT460
Microphone Specifications
Dimension: Ø6mm x Ø5mm
Sensitivity: -40 ± 3 dB
Output impedance: 2.2KΩ
Direction: Omnidirectional
Current Consumption: 500A
Working Voltage: 1.5V
Audio Response: 50Hz 10KHz
Speaker Specifications
Dimension: 15mm
Impedance: 32Ω ± 15%
Output Sound Pressure Level: 110 ±3dB
Power Rating: Normal 30mW.
Maximum 50mW
Frequency Range: 450Hz-20KHz
average SPL-10db
Cable Specifications
Cable Diameter: Ø1.5mm
Cable Length: 115cm
Colour: White
Material: PVC/kevlar reinforced
---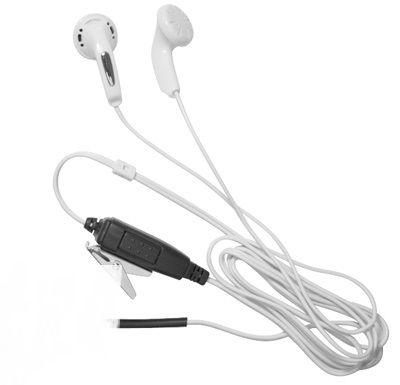 Earphone MP3 style, Motorola 2 pin
Description

A quality MP3 style earpiece with an in-line microphone and push-to talk button which can be secured to clothing with the metal clip. Order on-line by 12.30PM for free same day UK mainland shipping.

Suitable for the following walkie talkies - MOTOROLA DP1400 SERIES, GP300, GP68, GP88, GP88S, GP308, GP350, GP2000, CP040, CP88, CP100, CP150,CP200, CT150, CT250, CT450, CLS SERIES, GT1, GTX, P110, P040, P10, PR400, P080, P1225, P200, P1225, PRO3150, SP10, SP21, SP50, XTN446, XTNi, XTNiD, XT420, XT460

Microphone Specifications

Dimension: Ø6mm x Ø5mm

Sensitivity: -40 ± 3 dB

Output impedance: 2.2KΩ

Direction: Omnidirectional

Current Consumption: 500A

Working Voltage: 1.5V

Audio Response: 50Hz 10KHz

Speaker Specifications

Dimension: 15mm

Impedance: 32Ω ± 15%

Output Sound Pressure Level: 110 ±3dB

Power Rating: Normal 30mW.

Maximum 50mW

Frequency Range: 450Hz-20KHz

average SPL-10db

Cable Specifications

Cable Diameter: Ø1.5mm

Cable Length: 115cm

Colour: White

Material: PVC/kevlar reinforced